Get started now so you are ready by 30 June
If you are an employer it's important you know about some changes in the way you pay super and that you take action now.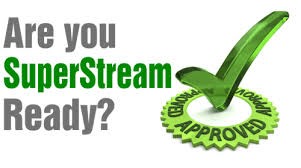 All employers need to use SuperStream when paying super. This means paying super and sending employee information electronically in a standard format.
A key SuperStream requirement is electronic payment and reporting. In essence, this means you have to use a clearing house or similar service provider for your super lodgements.
Typically these service providers require you to submit a SuperStream-compliant data file containing your employee, fund and payment details. You can use the SuperStream Alternate File Format (SAFF) in compliant Payroll solutions to create this file.
If you are not already paying super using SuperStream it's important you get started soon. The next quarterly super payment cycle is due in April and that is a good opportunity for you to start using SuperStream so you can ensure everything is in place by the 30 June 2016 deadline.
[mk_image src="http://www.crt.net.au/wp-content/uploads/2016/03/superstream-information.png" image_width="800″ image_height="350″ crop="false" svg="false" lightbox="false" frame_style="simple" target="_self" caption_location="inside-image" align="center" margin_bottom="10″]
Please contact us if you would like assistance in becoming SuperStream Complaint
02 68845922